FORT BRANCH — It goes without saying, 2020 has been an unusual year. Adding to the abnormalities, Gibson Southern was tasked with a peculiar week. A Thursday kickoff, a second regular season meeting between the Titans and Boonville.
It begged the question, how would the Titans respond? In arguably their most vital test to date, they passed with flying colors.
Senior Logan Murfin had a career night, hauling in five catches for 181 yards, four touchdowns and being the necessary spark plug for a Titan offense clicking on all cylinders in their 40-12 victory over the Pioneers on Thursday night.
As good as Murfin and junior quarterback Brady Allen — who tossed for 407 yards and five touchdowns — were, they fell wayside to the major storyline of the contest. That being, Boonville senior running back Devin Mockobee against the Titan defense.
In the previous meeting between the two schools, Mockobee torched the Titans for 423 yards and five touchdowns. The Titans on the other hand, they've improved tremendously in the month and a half time since the first meeting, but containing Mockobee would be the ultimate test leading into postseason play.
Early on, it appeared those in attendance were in store for a shootout, as Mockobee raced out to an early start and had his Pioneers behind just 20-12 after a quarter of play. Mockobee had rushed for 98 hard fought yards in the first quarter, but the Titan defense was beginning to show promising signs in their battle against the elusive tailback.
Offensively, Allen and the Titan offense were in total sync in the first quarter. A strip sack by junior Noah Bryant on the Pioneers' first possession put the ball in Allen's hands, and he simply picked apart the Pioneer secondary.
Allen's first completion of the night was a 63-yard bomb to Murfin for a touchdown, followed by another dime, this time to junior Rory Heltsley on a beautifully placed 37-yard touchdown along the Titan sideline.
After a firework display of a first quarter, neither team could punch the ball in the end zone in the second quarter, with both defenses rising to the occasion for big stops.
But out of halftime, the Titan offense began to roll, and their dominance scripted Mockobee out of the ballgame.
15 minutes of stoppage clearly didn't phase Allen and the Titan offense, as Allen quickly rediscovered his go-to receiver in Murfin for another bomb, this one a 74-yarder to begin the second half.
Trailing 26-12, the Pioneers clearly began to feel pressure to air it out in response, as the Titan defense began to swarm tackle Mockobee. Boonville quarterback Mason Phillips really only found success in the play action passing game, and made a critical mistake on a third-and-12 deep in his own territory — a mistake which Bryant snagged for the takeaway.
Later in the quarter, Allen connected with Murfin twice for a pair of spectacular catch in the corner of the end zone, one an eight-yarder, the other a 20-yard ball which Murfin juggled and caught while falling to the ground.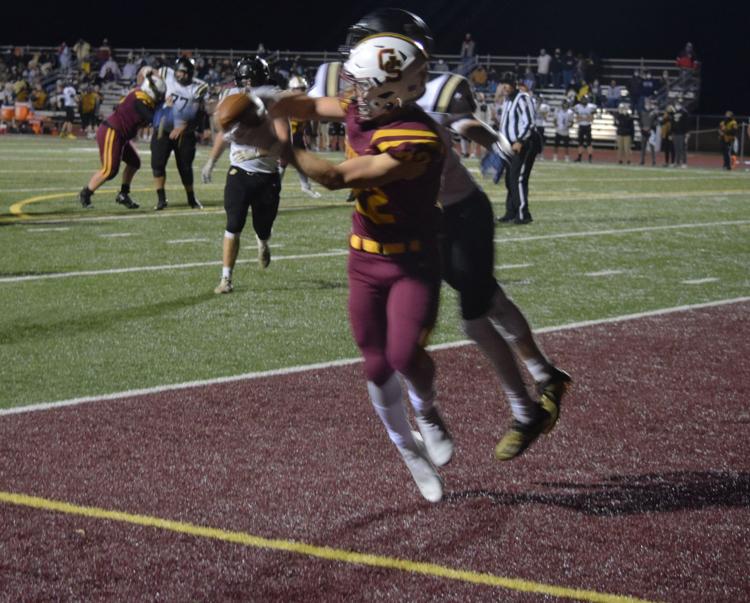 Allen's passing total was a season-high, as was Murfin's receiving yardage (with ease). Perhaps the only concern in the Titan offense was their inability to rush the football, which likely had more to do with how the Pioneer defense schemed. Senior Owen Bryant rushed 15 times for just 35 yards and a touchdown, with few running lanes available much of the night.
But when Allen's in sync with his receivers as well as he was tonight, they can make do without.
"It was tough sledding in the run game with the way they were playing us there a bit, but all of our guys did a great job in the pass game," Gibson Southern Head Football Coach Nick Hart said. "We protected really well for the most part, we missed a few things. I don't know how many times we dropped back, it was a lot. We protected really well, Brady did a good job of throwing hot when he needed to and our receivers made some great plays."
Mockobee ended with 201 yards and a pair of scores, but rushed for just 103 yards in the final three quarters of play. For the Titan defense, that's a resounding victory.
"We improved a lot on defense and that kind of showed a lot tonight," Hart said. "We kept them from hitting a lot of home runs and that was because we were physical at the point of attack, those lanes got smaller and that's what you have to do with a kid like that. When he did make a play, we had a lot of hats going to the ball, our pursuit was good, our pursuit angles were good, just a great effort by our defense."
With the victory the Titans conclude their season with a 6-3 record and finish as Pocket Athletic Conference champions.
They begin their postseason quest next Friday against Heritage Hills (3-5), a team which knocked the Titans out of the IHSAA Class 3A Playoffs last season — preventing what very well could have been a State Title appearance for Gibson Southern.
Gibson Southern defeated the Patriots 38-0 in their lone regular season meeting this year, though Heritage Hills was shorthanded in the contest.
"They've gotten us good in the regular season the last couple years, and then we've turned around and beaten them and almost beat them in the playoffs," Hart spoke of facing the Patriots. "That regular season matchup doesn't mean a whole lot. They've got all of their team back now, they're playing good football and always a tough out. You've got to go there, so we're going to have our hands full next week and just try to do everything we can to get a win and get another week."
Friday's game will be hosted at Heritage Hills and is set for a 7 p.m. kickoff.
GS — 20 0 20 0 — 40
B — 12 0 0 0 — 12
1Q: Bryant 1-yard rush (Ziliak kick) 7-0 GS.
Allen 63-yard pass to Murfin (Ziliak kick) 14-0 GS.
Mockobee 1-yard rush (Kick missed) 14-6.
Allen 33-yard pass to Heltsley (Kick blocked) 20-6.
Mockobee 9-yard rush (conversion failed) 20-12.
3Q: Allen 74-yard pass to Murfin (conversion failed) 26-12.
Allen 8-yard pass to Murfin (Ziliak kick) 33-12.
Allen 20-yard pass to Murfin (Ziliak kick) 40-12.
Next up: Friday, Oct. 23 at Heritage Hills in IHSAA 3A Playoffs at 7 p.m.